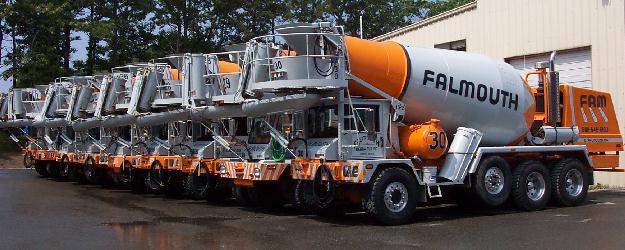 We are a leading supplier of ready mix concrete in Southeastern Massachusetts. Our computer systems technology for batching control, dispatching and job tracking ensure timely delivery of the highest quality product for our customers.
At Falmouth Ready Mix our staff of quality control experts carries out ongoing testing of our materials and monitors our product quality. We work closely with our customers on projects with advanced ready mix concrete strength and technical requirements.
If you need assistance estimating the ready mix concrete requirements for your project, contact our Batch person at Falmouth Ready Mix Concrete; call toll free at 800-350-6101 or 508 548-6100 fax 508-457-5324
Standard Concrete Mixes - Designed With 3/8 -3/4- 1-1/2" Sized Aggregates

Standard Mixes

2500 psi 5000 psi
3000 psi
3500 psi
4000 psi
4500 psi

Massachusetts DOT Approved Mixes

Standard and Metric

Grout Mixes

1-4 Grout
1-3 Grout
1-2 Grout

Flowable Fill

Excavatable
Non Excavatable
Quickset

Road Base Materials

24 Hour Road Mixes
48 Hour Road Mixes

Lightweight Aggregate Mixes

3000 psi
3500 psi
4000 psi

Concrete Admixtures

Chloride Accelerator 1%
Chloride Accelerator 2%
Non-Chloride Accelerator 1%
Non-Chloride Accelerator 2%
Retarder
High Range - Superplasticizer
Mid Range - Superplasticizer

Fiber Products

Various fiber products available as specified.
Call for details.

Colored Concrete

Colored concrete products available as specified.
Call for details.

Concrete Blocks

Various size blocks & Styles available.
See Block Page.

Contact Falmouth Ready Mix Inc